Sometimes it's hard to tell where a reality TV show ends and a celebrity begins.
A high-profile star's meltdown is something of a guilty pleasure and these were the most massive in recent years. Ride these following seven celebrities' downward spirals like the rollercoasters that they are...
Justin Bieber –
Join me in hailing air crosses at the Church of the Internet right now because Justin's poor soul could use some prayer these days.
From angsty, ranty Instagram posts to showing up hours late to his all-girl sleepovers (technically, they're called "concerts") because he was smoking weed while playing video games, Justin is falling off the deep end. All the frustration he's been bottling up throughout his career is finally rearing its head when he lashed out at a paparazzi, jumping at him like a flying sugar glider that missed breakfast. Fans and the media are worried that he'll never be able to cage his emotions now that he's getting a taste for rebellion.
As if Justin hadn't suffered enough, God also took his pet hamster Pac this week. (Pac 2012–2013)
Let's get Pope Francis I to make this his first mission because Bieber, the holy savior of tween pop music, needs some spiritual guidance. Amen.
Britney Spears –
It was the umbrella opening heard round the planet. Britney's meltdown was the stuff of an original Lifetime TV movie or a real life minute inside Lindsay Lohan's head (don't worry, we'll get to LiLo in a second).
Cracking under the veneer of fame, Britney shaved her head, ran through the aisles of Rite-Aid wearing a variety of janky wigs (because she shaved her head), hard partying under the influence of laxatives and Red Bull, among other actions filed under "career suicide."
She rebounded a few years later and now has a club single with Will.i.am currently on the radio.
Lindsay Lohan –
Like the Porsche she wrecked while you're reading this, Lindsay's meltdown is the car crash you can't look away from.
Riddled with legal depositions and projects that flopped, Lindsay's failures and total disinterest in reforming her ways have plagued her career. There's really nothing more to say here. It's still ongoing and we'll keep you updated.
Amanda Bynes –
No one knows what to make of Amanda Bynes…or the alien species that's invaded Amanda Bynes' body and making her say and do the most bizarre things. The multiple car accidents (there's always a car accident). Conspicuously confusing tweets. Flashing everyone at a tanning salon like NBD. A bizarre makeover. Like a former comedienne (she apparently "retired"), this all feels like a joke with no punch line.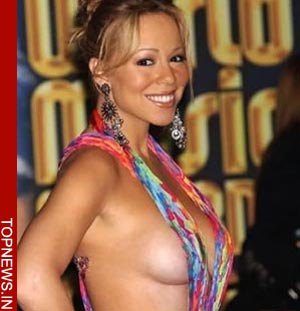 Mariah Carey –
"Fantasy," the best Christmas song of modern times, notes that only dogs can hear: Mariah Carey has given us many things. In media speak, she also gifted us with the following: Celebrities going to rehab for "exhaustion."
Following the bomb that was her movie/album
Glitter
, a vessel in Mariah's brain—the one that connects eye-hand coordination to rational behavior—ruptured and the singer started acting really weird in public. Handing out popsicles unannounced at the set of "TRL" were one of these instances before she disappeared to take some time off.
Demi Lovato –
The singer had a hard few years in her adolescence exacerbated by an eating disorder and depression. There were the "cutting" photos snapped on the red carpet of Miley Cyrus' sweet sixteen birthday party (super dark) and a reportedly violent "altercation" with a back-up dancer. She checked in to rehab, checked out and seems to have her life straightened out now.
Charlie Sheen –
Charlie's meltdown was the one that introduced some colorful vocabulary to our media lexicon: "Tiger blood," "winning," "assassin warlock" to name a limited dime-a-dozen. Everyone was following Charlie's Sheenglish when the actor flew off the rails in 2011 which ultimately led to his dismissal from the popular family sitcom, "Two and a Half Men."
You have read this article with the title 7 Celebrities Who Had Massive Meltdowns. You can bookmark this page URL http://runequestwilderlands.blogspot.com/2013/03/7-celebrities-who-had-massive-meltdowns.html. Thanks!